Cosmetic dentistry is gaining attention nationwide for its ability to help people transform their overall appearance. Cosmetic dentistry procedures achieve remarkable results when it comes to enhancing the beauty of our patients' smiles. To learn more about how various procedures can help you look your best, contact our practice today!
Teeth Whitening
At-home teeth whitening is a convenient way to dramatically transform your smile in the comfort of your own home. During an initial office visit, our dentists will provide you with clear, removable plastic trays fitted to your mouth. Simply fill the trays with whitening gel each night and wear them in your sleep. After about a week, you will notice striking results: a whiter, brighter smile that will impress everyone you know.
Porcelain Veneers
Porcelain veneers can often eliminate the aesthetic impact of discolored, misshapen, and crooked teeth. Veneers are tooth-colored porcelain sleeves that cover the front of the tooth, restoring its color and shape. In your first visit, your dentist will create a mold of your mouth, apply a bit of local anesthetic, and shave away a small portion of the tooth being treated so that the veneer will adhere to it as securely as possible. Typically, temporary caps are then worn for about a week until the veneers have been custom-made in a laboratory. On your second visit, your dentist will affix the veneers to your teeth. With porcelain veneers, your new smile can last for years.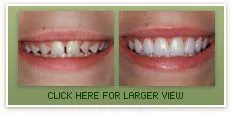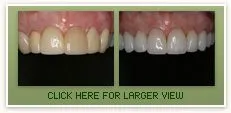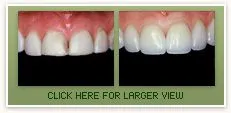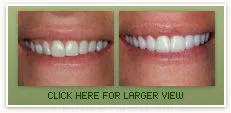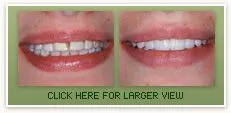 Dental Bonding
Dental bonding uses a tooth-colored ceramic liquid to cover blemishes on the surface of teeth, restoring their original color and shape and eliminating chips, cracks, and discolorations. After the surface of the tooth is slightly scuffed to prepare it to bond with the ceramic filling, the filling is applied and hardened with a laser. It is then shaped to blend perfectly with the rest of the tooth and polished for a natural finish. For many patients, dental bonding is a quick and virtually painless alternative to porcelain veneers.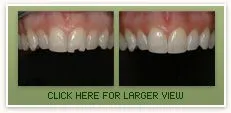 Tooth-colored Fillings
Geissberger, DDS uses tooth-colored porcelain as well as traditional materials for fillings, inlays, and onlays. Unlike traditional metal fillings, tooth-colored fillings are virtually undetectable, providing a durable and attractive means of treating tooth decay.
Elective Gum Contouring
Elective gum contouring is an option for patients concerned with "gummy" smiles. Using this process, our dentists are able to lift and even the gum line to show more of the tooth, producing a dazzling smile. While the patient is under local anesthesia, our dentist uses a laser to trim away excess gum tissue and seal blood vessels to help ensure a speedy recovery and minimal discomfort. This straightforward procedure can achieve remarkable results in just one office visit.
Orthodontics
At Geissberger, DDS, we provide Invisalign® to adult patients seeking a discreet way to enhance the harmony of their smile. Invisalign® uses virtually invisible aligners to realign teeth gradually, causing little disruption to patients' lives. Many people see results in as little as six months. All child and adolescent and complex adult orthodontic issues are referred to an orthodontist in the community.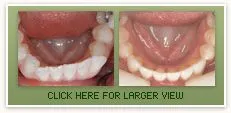 Contact Our Practice for Superior Cosmetic Dentistry
With our state-of-the-art cosmetic dentistry procedures and our skilled dentists, the dazzling smile you've always dreamed of can be yours. Contact our practice today to schedule a consultation!