Invisalign® — the Discreet Alternative to Braces
At Geissberger, DDS, our dentists have received the special training necessary to provide Invisalign®. Invisalign® uses virtually invisible plastic teeth aligners to gradually straighten misaligned teeth. Invisalign® is a popular option for patients wishing to straighten their teeth without traditional metal braces.
Orthodontic Problems Invisalign® Can Correct
Invisalign® has achieved astonishing results for thousands of patients. This procedure is known for its convenience, cost-effectiveness, and inconspicuousness in correcting a variety of orthodontic problems, including:
Widely spaced teeth
Overbites
Underbites
Crossbites
Crowded teeth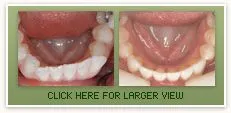 The Invisalign® Straightening Process
The Invisalign® method consists of a series of simple steps:
During your first dental visit, your dentist takes a bite impression.
In a laboratory, skilled Invisalign® technicians use precision computer mapping to create a comprehensive treatment program that will ensure optimal results. After crafting your first set of aligners, they ship them directly to your dentist.
You will then visit our practice to pick up your aligners and receive instructions on how to wear them.
Every two weeks, you will receive the next set of aligners in the mail. Each set makes teeth progressively straighter during the virtually painless realignment process.
The aligners are made of clear, durable, medical-grade plastic. They are removable, comfortable, and virtually invisible, causing little disruption to your everyday life. You can wear them in business meetings and social situations without feeling self-conscious. Your dentist will periodically check on your progress and order adjustments to your aligners whenever necessary. Patients who wear their aligners every day and remove them only to eat, brush, and floss see results in as little as six months to one year.
Invisalign ® Results
Invisalign® has a reputation for achieving outstanding results. Adult patients are amazed that such a change is possible without the commitment of time and the inconvenience associated with metal braces. As part of a comprehensive dental strategy, many Invisalign® patients further enhance their newly straightened smiles with teeth whitening, porcelain veneers, and other cosmetic dentistry procedures. To determine if you are a good candidate for this nearly invisible alternative to braces, contact our practice today.
Contact Geissberger, DDS Today
If you are interested in straightening your teeth, contact our practice. We will schedule a consultation with one of our dentists so that you can discuss the various treatment options available to you.